PACCAR MX-13 ENGINE
PACCAR MX-13
The PACCAR MX-13 engine brings a new level of innovation through industry-leading quality, exceptional efficiency and proven performance. PACCAR has now delivered over 1 million engines globally, and for over 50 years has provided innovative engine solutions and an unwavering commitment to superior customer service and support.
---
RELIABILITY & DURABILITY
Transport professionals will find the PACCAR MX-13 engine credentials and specifications ideal for a variety of heavy duty applications including single trailers, B-double and tipper and dog.
LIGHTWEIGHT COMPONENTS
The PACCAR MX-13 uses Compacted Graphite Iron (CGI) in both the cylinder block and head. CGI is lighter and stronger than traditional grey iron and offers operators an excellent horsepower-to-weight ratio to optimise payload. The distinctive PACCAR MX-13 crankshaft reduces weight and increases power for quicker acceleration and smoother overall operation.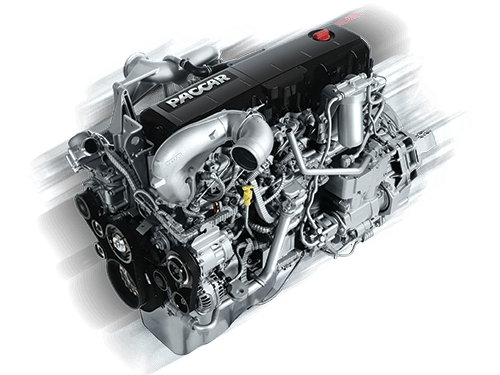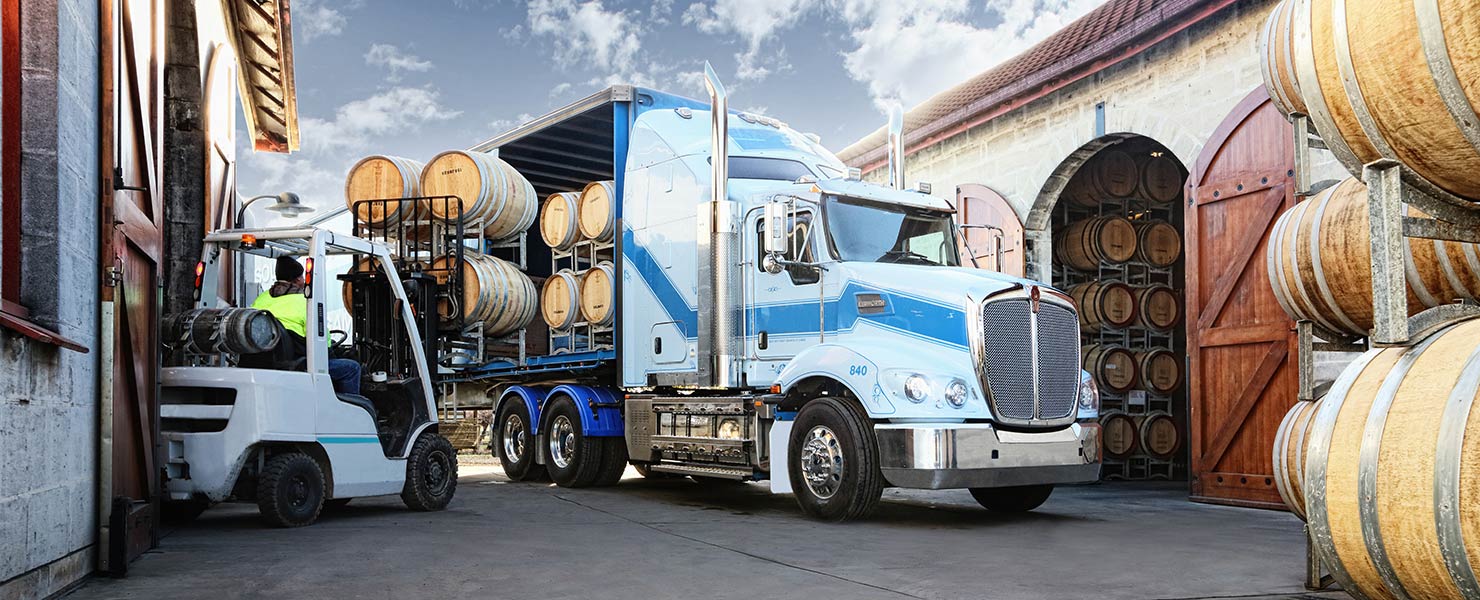 QUALITY
PACCAR's core commitment to quality is evident by the attention to detail through the seamless integration of systems and the use of the highest quality materials available that result in long-term customer value.
EFFICIENCY
The PACCAR MX-13 features innovative designs that contribute to reliability and durability and result in an overall low cost of ownership.
PERFORMANCE
The PACCAR MX-13 combines maximum power with outstanding fuel efficiency to optimise performance in many applications.
---
PERFORMANCE & DRIVEABILITY
PACCAR MX-13 engines deliver excellent torque at low engine speeds and high performance over a wide rev range. The PACCAR MX-13 engine brake offers optimum stopping power on long gradients.
A rear mounted gear train reduces torsional vibrations that occur with front engine gear trains. The design places gears within the flywheel circumference, where the primary energy transfer takes place, resulting in greater harmonic balancing, which reduces wear and tear and provides drivers with a quieter operating environment.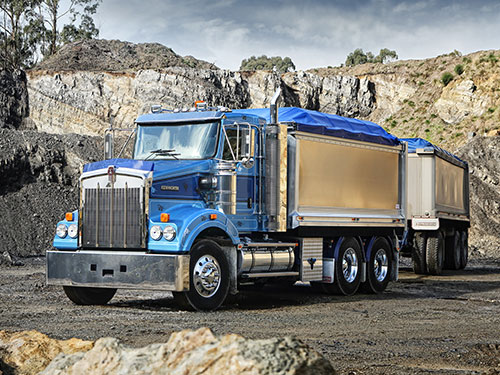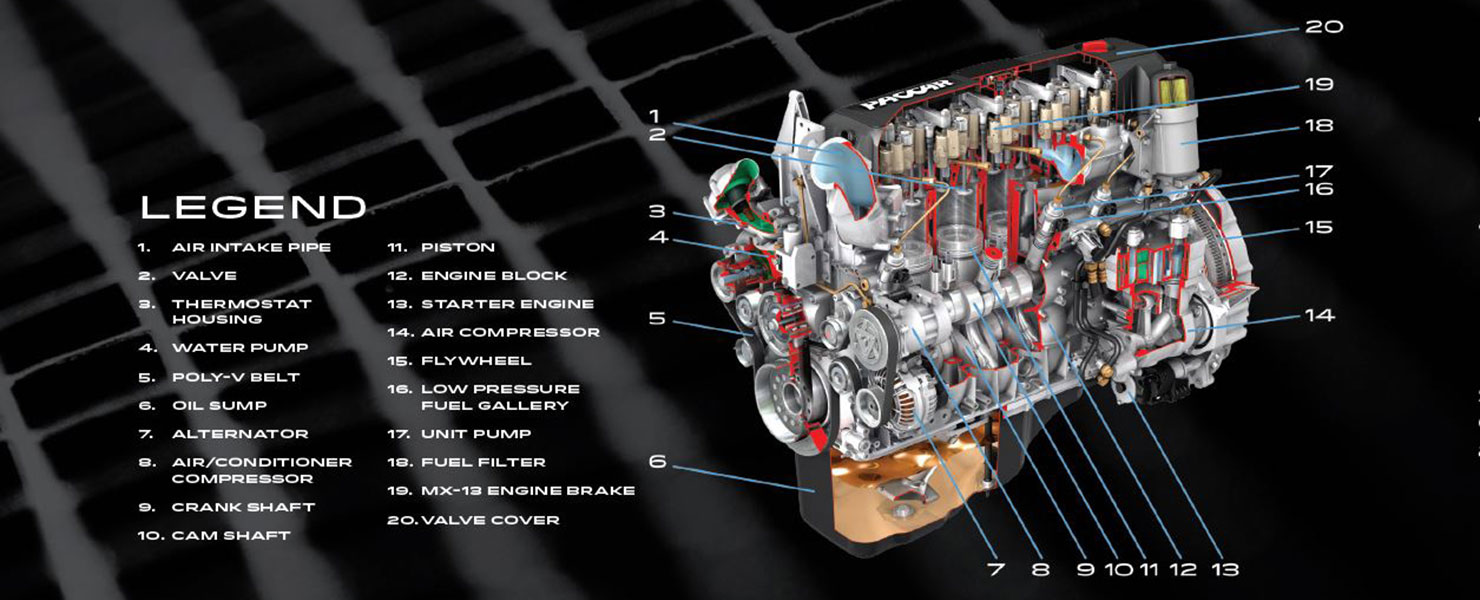 ---
FUEL EFFICIENCY
SMART fuel injection technology is used to deliver high injection pressures combined with precise injection timing and multi-point injection. The outcome is an optimum combustion process and excellent fuel efficiency.
The PACCAR MX-13 features low operational engine speeds with excellent torque characteristics, thereby requiring fewer gear changes, which results in lower fuel consumption.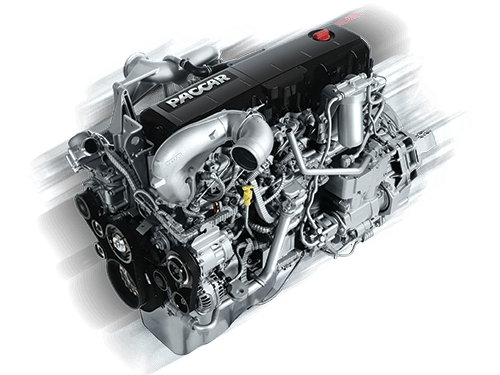 ---
LOW EMISSIONS
To comply with the Euro 5 requirements for exhaust gas emissions, PACCAR MX-13 engines use SCR technology, optimised for high performance with low fuel consumption and low emission of particulate matter.
An optimised combustion process results in low emmisions of particulate matter allowing for long service intervals, which reduces the total oil waste over the truck's service life.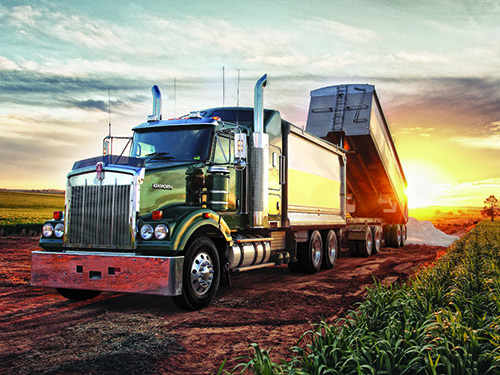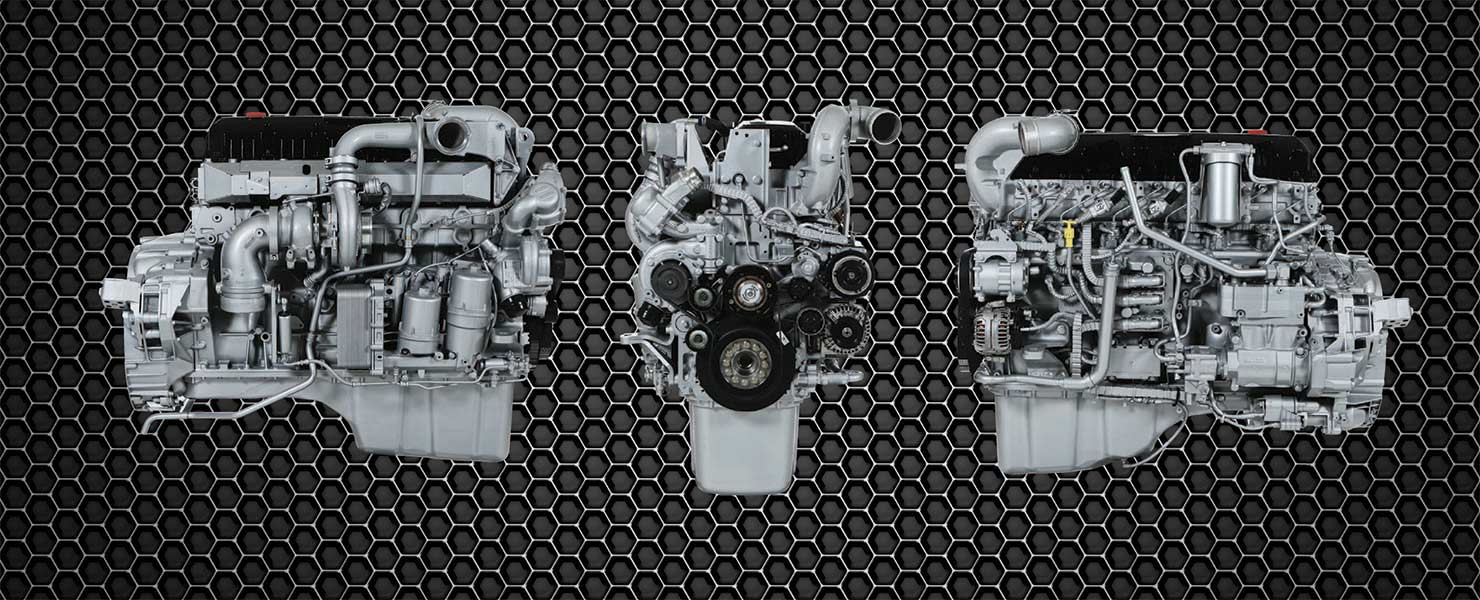 ---
RATINGS
PACCAR MX-13 460
COMPRESSION RATIO
16.5 TO 1
MAX OUTPUT
460 HP (340KW) @ 1400 – 1900 RPM
MAX TORQUE
1700 LB FT (2300NM) @ 1000 – 1410 RPM
PACCAR MX-13 510
COMPRESSION RATIO
16.5 TO 1
MAX OUTPUT
510 HP (375KW) @ 1500 – 1900 RPM
MAX TORQUE
1850 LB FT (2500NM) @ 1000 – 1410 RPM